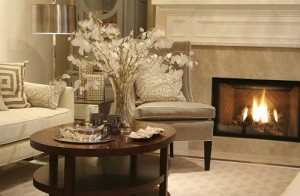 As any Raleighite knows, our winters vary drastically from year to year. Last year, for example, we had five or six separate snow events. The Farmer's Almanac is predicting a colder and drier than normal winter for us this year, with the snowiest periods being in early to mid-January of 2015. Here are 5 easy tips to help save money while you get your home ready for the cold and potentially snowy weather.
Clean The Gutters – Remove debris from your gutters to prevent freezing damage to them. A gutter guard may come in handy to prevent blockage next time.
Save Money on Heating – If you don't want to invest in a Nest or other smartphone-programmable thermostat, turn your heating system on only when you're at home. Keep the temperature between 68 and 72 degrees to see big savings on your next energy or gas bill.
Open The Curtains – On sunny days, open up your blinds and curtains to let the sunlight help warm your home. Close them at night to block out the cold air.
Lower The Water Temp – Lowering the temperature of your water heater, even just one notch, can help increase the money in your pocket. Try to keep it around 120-125 degrees.
Stock Up Now – Check expiration dates and restock your emergency kit – just in case. Look for items like batteries and blankets on sale around Black Friday. Don't forget the kitty litter or ice melt for those cold, icy mornings when your car is stuck in the driveway.
Winterizing your home is easy to do and doesn't need to cost an arm and a leg. Making a few simple tweaks here and there and being prepared for what Mother Nature has in store for us will help save money and time later on down the road.
We Want To Hear From You
Do you have any tips we missed? What do you do each year to get your home ready for the cold temperatures? Tell us in the comments below!
Is It Time For A New Home?
If your home seems to be costing you more money than it's worth, it might be time for a new one. When you find your next Raleigh area home, let us know. We'll be happy to schedule a showing or give you more information about the neighborhood.