Get a Table Outside in Raleigh, NC
Having such wonderful weather in North Carolina makes people want to be outdoors as much as possible, especially during the late spring & early summer months. With this in mind, here is a list of the top 5 places to go in Downtown Raleigh, where you can dine outside.
1. Boylan Bridge Brewpub.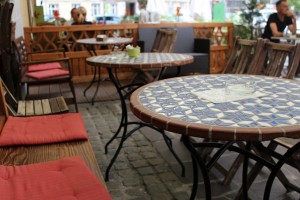 Not only does this local spot offer amazing food and home brewed beer, but also one of the best views of the Raleigh skyline. This brewpub is woof-friendly and remains a favorite destination for many people in the area.
2. The Station at Person Street
If you are looking for a restaurant with a lot of character, where you can sit outside and enjoy the sunshine while eating your food– The Station is the perfect spot. Located on the edge of Raleigh's Historic Oakwood community, The Station uses all local farm fresh foods, sells locally brewed beer, and even has wood burning fire pits for cooler summer nights.
3. Humble Pie
Whether you come for Sunday brunch or a dinner during the week, Humble Pie is truly a unique restaurant with outdoor seating. Many of the entrees offered are meant to split, so groups are welcomed. Also, being located so close to the Red Hat Amphitheater makes this an ideal spot to grab a bite to eat before heading to a summer concert.
4. Clouds Brewing
Located on West St., Clouds Brewing is one of a kind, as one of the few self-serve beer walls in North Carolina. This restaurant allows you to be your own bartender, as you can try and choose from any of the 10 rotating taps. When you are satisfied with your beverage, you can enjoy lunch or dinner on the large patio.
5. Busy Bee Cafe
Head to the Busy Bee Cafe to enjoy a meal on the fabulous rooftop veranda in Downtown Raleigh. Featuring amazing southern foods, good beverages, and plenty of fresh air, the Busy Bee Cafe is a must see.
Your Raleigh Real Estate Needs
If you are looking to purchase a home in the Raleigh area, please do not hesitate to contact me, Jennifer Jones. I am familiar with the local community and the hot spots that are a must see! For those looking to sell Raleigh real estate, let me help! With a broad knowledge of the Raleigh real estate market and experience working with a variety of homes, I can help you achieve your real estate goals. Contact me today!